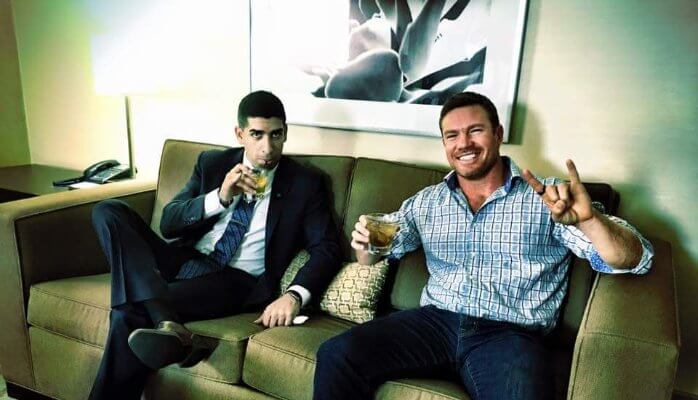 How I Self-Deprecated and Almost Lost
How many times have you gone to an event, a dinner, a ball game, a fundraiser or just a vacation where you met an individual that simply amazed you with their success? You listen to their stories, and all you can think about is how did that person make it? How does it look so easy? What am I doing wrong with my life?  We can all relate to this feeling, and for me, no one exacerbated that feeling in me more than Nate Boyer.
While I was on my first deployment to Afghanistan...
I remember the few times that I had an opportunity to use the computer to communicate with my family and friends back home. I would jump on Facebook and read friends' posts. I would gaze at their pictures and read their comments. It felt as if they were in a paradise that I would never reach. I was in the middle of nowhere with an enemy dedicated to killing me, while my friends were drinking margaritas at happy hour and planning their next big BBQ. Yet, it's not that which really bothered me.
Realistically, I knew my days of margarita-sipping' weren't over- they were just far off on the horizon. What really churned my stomach were the guys and girls I knew were now working for the 'dream' companies like Facebook, Microsoft, and Google. In my eyes, they had it all: the unlimited vacation, the massages and yoga classes, Frappuccino machines and organic smoothie bars, and of course, the napping pods. Here, I had hot weather, mortars to dodge, and people to keep alive. One day, while finishing up my 20-minute session on the Internet, I wrote a message to one of my buddies working for Microsoft, inquiring about his hiring process. Then I deleted the message before I hit send. I thought to myself, 'Why bother? I don't bring anything to the table for these companies. I am just an Infantryman."
Enter Nate Boyer: If you haven't heard of Nate Boyer, then you are in for a treat, and if you have heard the name, then you know exactly why he is such an exceptional individual. Nate was born with that "serving" attitude. Five years after high school, in 2004, Nate emptied his bank account and bought a one-way ticket to Chad, Africa to help refugees. The attacks of 9/11 are forefront in his mind, through all of his services in Chad and consequently, fighting off Malaria. Finally making a recovery, he returns to the U.S. and joins the military and serves as a Green Beret. Despite having never fired a gun in his life, Nate knew he could be a part of the elites.  He served six years in the Special Forces before he got out. 29 years old, and without a college degree, he enrolled at The University of Texas and without having ever played a game of football in his life, walked onto the UT football team and made the team (let that one sink in).
His no-quit mindset and work ethic proved again to be his biggest asset.  Still, Nate wanted to do more, so he while attending college as a Full-Time student, and playing on a Division 1 sports team, he joined the National Guard Special Forces. While everyone took summers off for vacation, he deployed overseas to fight for our country. Like clockwork, the man was on a mission.  Whether it was for the U.S. Army, to get a degree or to play football, he was on a mission. Throughout his football career at Texas as a long snapper, he never missed a snap. He went on to sign with the Seattle Seahawks, only to be cut when one of the quarterbacks was injured and the team was forced to dedicate an extra roster spot for that position. Cut and driven away from his passion, Nate decided to sacrifice more.  Today, he's working with the Conquering Kili project, a climb to the top of Mt. Kilimanjaro to raise money and awareness for clean drinking water in Africa.
My path with Nate cross unexpectedly and randomly in a hotel lobby in Anaheim, California.  Nate has a warrior mentality that comes by once in a lifetime.  While, yeah, at times, he made me feel mediocre, he inspired me to do more every day without even knowing it. He reminds me to forget about barriers and complete everything I do with a never-fail mindset.
Thanks to Nate, I challenged my worth and expunged my own limiting expectations.   Today, I am a spokesperson for LinkedIn, and I have a job offer from one of the top defense contracting companies in the United States. I don't want to be the person on Facebook that people longingly look at through deceiving pictures. It takes hard work, commitment, along with failures and triumphs, but if you take anything away from Nate Boyer's playbook, know that the limitations you set on yourself are BS, and run with that.